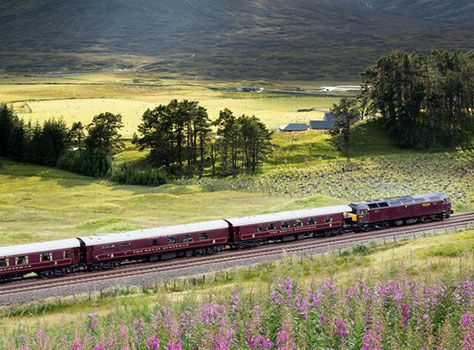 Presentazione del treno (compagnia, anno di fabbricazione)

Dal 1985, il Royal Scotsman invita a viaggi senza precedenti oltre la brughiera, i laghi, i castelli e la distillerie di whisky della Scozia. In un primo momento, questo treno viaggiava per conto della GS & WR, la Great Scottish and Western Railway. Fu soltanto nel 2005 che il Royal Scotsman entra nei ranghi della società di lusso Belmond. Inizialmente dotato di 4 vetture d'epoca, il treno comprende attualmente 9 vagoni che sfoggiano l'arredamento raffinato e tradizionale che ha fatto la reputazione della società. Sempre fedele al suo concetto di viaggio di lusso, Belmond promette a bordo del Royal Scotsman esperienze culinarie di primo ordine in una calda atmosfera. Su ogni percorso, 36 passeggeri possono godere dei servizi di lusso offerti a bordo del treno.


Principali caratteristiche e strutture

Le 20 cabine del Royal Scotsman sono distribuite su 5 vagoni letto. Esse sono classificate in tre tipi, con letti matrimoniali, singoli o doppi, adiacenti a un bagno privato. Ogni cabina dispone di dettagli in legno pregiato che rivestono, inoltre, i due vagoni ristorante del treno. Questo elegante arredamento accompagna le cene durante le quali l'abbigliamento formale è appropriato. Ma le cene informali, giacca e cravatta per gli uomini, si alternano altresì alle serate ufficiali. I pasti a bordo offrono l'occasione di degustare i prodotti della terra scozzese, come i piatti preparati con la famosa carne bovina Aberdeen Angus, apprezzata per la sua delicatezza e il suo sapore. Ovviamente, lo Scotch Whisky non manca mai a bordo del Royal Scotsman.


Principali percorsi proposti

Un circuito attraverso gli Highlands è il viaggio da intraprendere a bordo del Royal Scotsman. Questo percorso circolare di 8 giorni da Edimburgo, consente di godere del campo da golf e visitare il castello di Carrbridge prima di iniziarsi al tiro al piccione di argilla nella foresta di Rothiemurchus. Fort William e Mount Stuart sono altre fermate previste durante il viaggio. Inoltre, sempre da Edimburgo, il treno percorre la costa orientale e raggiunge lo stesso giorno la città di Keith. I giorni seguenti, il Royal Scotsman raggiunge Kyle of Lochalsh, Boat of Garten e Dundee prima di concludere i 5 giorni di viaggio nella città di partenza Edimburgo. Alcuni viaggi ripercorrono l'ovest della Scozia. Da Edimburgo, il treno si dirige a Spean Bridge per un circuito ad anello di 4 giorni. Una tappa nelle pianure di Rannoch Moor, sulla spiaggia di Silver Sands of Morar e sull'isola di Bute è prevista in questo caso.